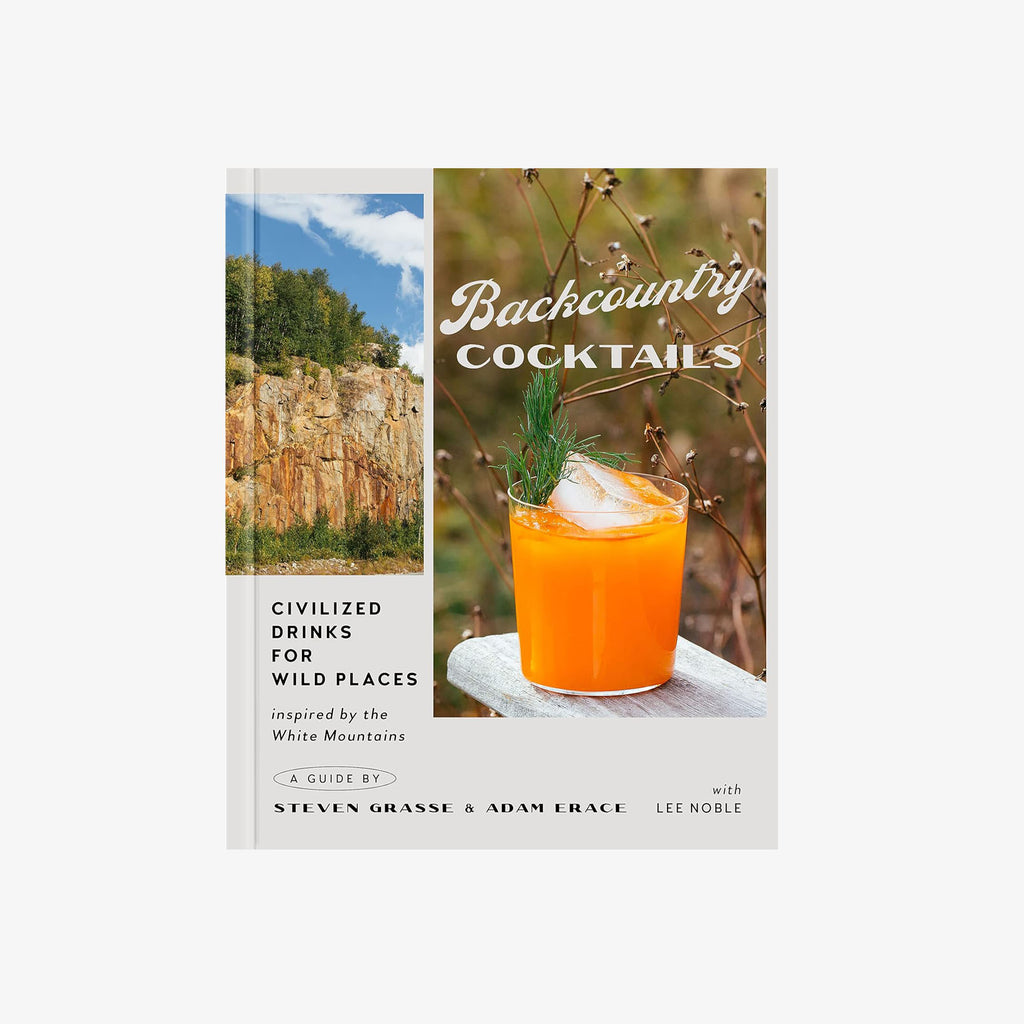 Backcountry Cocktails: Civilized Drinks for Wild Places
$28.00
What could possibly enhance the natural beauty of a crystal clear lake, snow-capped mountain, or backyard fire pit? A craft cocktail, of course! So cozy up by the campfire, pack your cooler for a picnic out at the lake, or rent a mountainside cabin with your friends—it's time to head for the woods for some good times and good spirits courtesy of Backcountry Cocktails. 

Each recipe from authors Steven Grasse and Adam Erace, of The Cocktail Workshop, captures the energy of hitting the trails in an elevated yet approachable ode to craft cocktails and the beauty of the natural world. No matter your cocktailing style, there's something for everyone, from spiked cocoa to frozen fizzes (perfect for packing as a treat after an afternoon of hiking), and even foraged creations that will tie your experience to the land around you.
All recipes are designed to use relatively few ingredients (for easy packability), and to be both portable and batachable—so you can enjoy them no matter what kind of adventure you have planned for the day. Each seasonal chapter also includes a handful of recipes for entertaining, like Crispy Cast-Iron Trout with Wild Greens, "field guide" how-tos on local experts covering topics from medicinal plants to preserving fruit, and DIYs (like fermenting your own vegetables or foraging for mushrooms). 
Details
:
7.3 x 0.85 x 9.3 inches
. Hardcover. 192 pages.  
About the Author
Steven Grasse

 
is an entrepreneur equally influenced by punk rock and New England transcendentalism. After creating some of the most outrageous booze brands of the twenty-first century seemingly out of thin air (Hendrick's Gin, Sailor Jerry Rum, Art in the Age Craft Spirits), he opened the award-winning Tamworth Distilling & Mercantile in the White Mountains of New Hampshire in 2015. Steven is also the author of 
Colonial Spirits: A Toast To Our Drunken History
, 
The Good Reverend's Guide to Infused Spirits
, 
Evil Empire
, the IACP-nominated 
The Cocktail Workshop
, and 
Brand Mysticis
m. He lives and works in Philadelphia, but his heart is always at his farmhouse in the White Mountains.


Adam Erace
 is a food and travel writer and co-author of the cookbooks 
Laurel: Modern American Flavors in Philadelphia
, 
Dinner at the Club: 100 Years of Stories and Recipes from South Philly's Palizzi Social Club
, and the IACP-nominated 
The Cocktail Workshop
. He contributes to many publications, including 
Travel + Leisure
, 
Fortune
,  and 
Food & Wine
, and his work has been recognized with awards from the International Association of Culinary Professionals and the Association of Food Journalists. He lives in South Philly with his wife, Charlotte, and three maniacal rescue dogs.
x