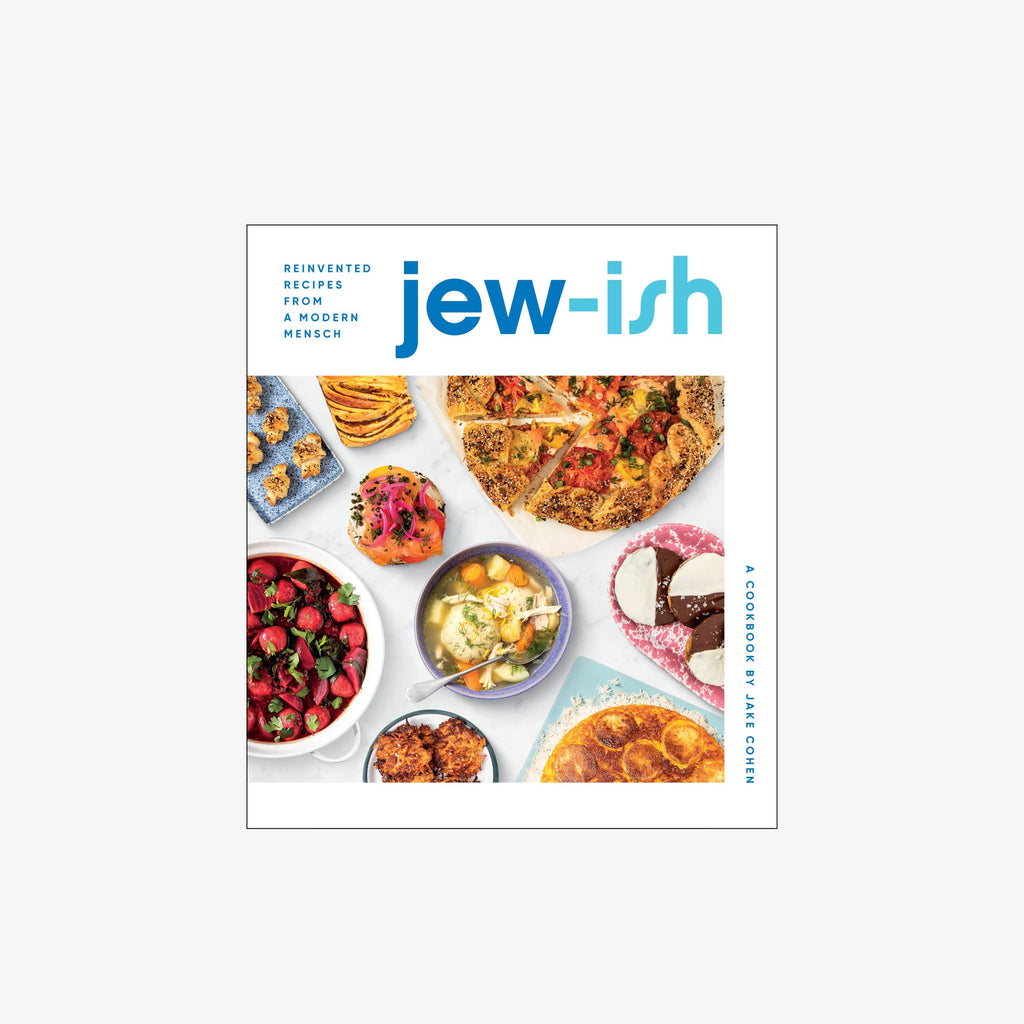 Jew-Ish: A Cookbook: Reinvented Recipes from a Modern Mensch
$30.00
A brilliantly modern take on Jewish culinary traditions for a new generation of readers, from a bright new star in the culinary world.
When you think of Jewish food, a few classics come to mind: chicken soup with matzo balls, challah, maybe a babka if you're feeling adventurous. But as food writer and nice Jewish boy Jake Cohen demonstrates in this stunning debut cookbook, Jewish food can be so much more.  
In Jew-ish, he reinvents the food of his Ashkenazi heritage and draws inspiration from his husband's Persian-Iraqi traditions to offer recipes that are modern, fresh, and enticing for a whole new generation of readers. Imagine the components of an everything bagel wrapped into a flaky galette latkes dyed vibrant yellow with saffron for a Persian spin on the potato pancake, best-ever hybrid desserts like Macaroon Brownies and Pumpkin Spice Babka! Jew-ish features elevated, yet approachable classics along with innovative creations, such as: 
Jake's Perfect Challah 

Roasted Tomato Brisket 

Short Rib Cholent 

Iraqi Beet Kubbeh Soup 

Cacio e Pepe Rugelach 

Sabich Bagel Sandwiches, and

Matzo Tiramisu. 
Jew-ish is a brilliant collection of delicious recipes, but it's much more than that. As Jake reconciles ancient traditions with our modern times, his recipes become a celebration of a rich and vibrant history, a love story of blending cultures, and an invitation to gather around the table and create new memories with family, friends, and loved ones. 
Details: 8" x 0.81" x 9". 272 pages. Hardcover.
About The Author

Jake Cohen is a former food staffer at Saveur, then food editor of Tasting Table and Time Out New York, and most recently the editorial and test kitchen director of social media juggernaut the Feedfeed. When he isn't writing about food for publications including Food52, Food & Wine, and Real Simple, he's posting challah braiding videos and recipes on his Instagram and TikTok (@jakecohen). He lives in New York City with his husband, Alex.

x